Still, searching for the trending Spotify playlists to listen to right now? Well, now your search for popular songs, is about to end soon. Here sharing the best spotify playlists to subscribe to that connect with your every mood.
You know, there are many online music platforms out there, to stream music with no limits. But Spotify has some reserved space for making our quality time more fun. Its regularly updated songs and assorted playlists fit for every moment plus shifting moods.
Spotify not just allows you to create your playlist only but also enables you to share it among the Top Spotify playlist as well.
Further, due to having thousands of playlists there, it's quite difficult to find the perfect one of your choice. So, to save your time we are sharing the best Spotify playlists 2020 that give you great music that you are demanding at this moment.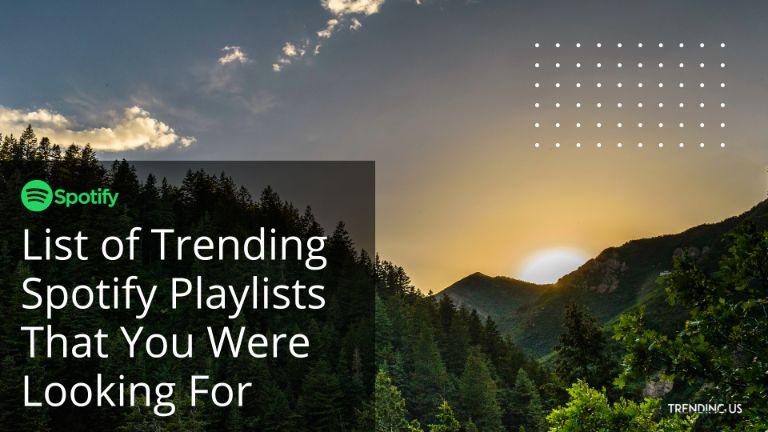 List of Trending Spotify Playlists That You Were Looking For.
1. TOP IN 2022
We are already in 2022 and it's time to play the new playlist, no matter whether driving back home from the office or reaching a new vacation destination. From headphones to speakers in the party, this Spotify 2022 playlist will surely set some vibe. 
2. Trending Indie Songs on Spotify
Indie songs hold some special essence in them; there is something that directly touches our heart. I guess you can fit them almost everywhere while travelling, late-night coffee or soothing weather.
They are the beautiful essence of life and experiences, and somehow we can always relate to the lyrics. Here are some trending Indie songs on Spotify.
Are you a fan of rap songs, then this playlist in your choice. Having over a million likes and active listeners, RapCaviar is one of the most popular Spotify playlists out there. The playlist regularly gets updated due to new tracks, that's the reason for its highest popularity among the music lovers.
Undoubtedly, this playlist deserves to be on the priority list for music lovers. This trending playlist features the best songs of all time. The great thing about this playlist is, it gets updated weekly. So, if you are looking to stream all your favorite songs in one place, then this "Most streamed" playlist is the one for you. 
Now, don't miss a single, newly released track anymore. Spotify cares for every listener with its popular and trending song demands. You don't have to search anywhere to find the latest tracks that are released recently. Just follow, "New Music Friday" Spotify playlist. This song-list gets updated weekly with the newly released pop music in one place. 
Just like a name itself, this playlist is real gold. It covers the trendings songs and tracks that you'll like listening to on repeat. No wonder, If in between the entire list you may find your old favorite track as well. A track that you used to listen to hours earlier. Just play this list on shuffle mode and enjoy your chilling weekend. 
If you are looking for some exciting and uplifting Spotify playlist, then nothing is better than this one. The playlist totally resonates with its name and serves the same vibes. The cheerful songs with classic and trending numbers are there to lift your mood up. It's recommended that you listen to this joyful playlist on weekend nights to welcome new exciting weeks. 
This year 2020, is in the ending phase now, so play the best songs that the present year gave you. Listen to all your favorite songs in one place. Get the refreshed feeling with the latest tracks now. This regularly updating Spotify playlist features all the new and trending songs of your favorite pop singers. 
Also check: Trending Music & Songs for Instagram Reels
Productive morning is another playlist that supports you to have a full focus on your work. If you are working from home and need some playlist to uplift your mood, then this one's for you. Plug-in your earphone and listen to this curated productive playlist on Spotify. That further helps you to improve your focus and boost productivity. 
Don't rush to anything, just enjoy your morning coffee with this Spotify playlist with the same name. This playlist is there to make your morning more productive. A feel-good playlist to build a deep focus as the day starter. Tune into to this curated tracks for a relaxing morning and enjoy every sip of your coffee. 
Just like a morning mood booster, you also need songs for the day end. This playlist is there to uplift your mood after working hours. Set yourself in a relaxing chair, plug-in to your earphone, and listen to this mood swinging track. After a long working day, this playlist will level up your mood and give the needed relaxation. 
As music lovers, we are always curious to know what are trending songs of this year. Want to listen to songs that are on the top list right now? The TOP 100 songs of 2020, is one of a kind playlist to follow if you want to listen to songs that are very popular and in trends of this particular year. 
Next, If you want to know trending songs at this moment then this one of the best Spotify playlists is for you. Add this one to your library for daily updates and the latest hits. It involves the Top of the Hottest 50 songs that most other music lovers are listening to. Check the new popular tracks and songs in 2020, and let us know how many of that you are already listening to. 
Also check: Romantic Songs for Your First Date
Missing your loved one and wanting to rewind those sweet memories, then 'Acoustic love songs' playlist is all you need, there. Tune in to these soulful songs that help you to shorten the distance between you and loved ones. A trending Spotify playlist for every vibe from reliving old memories to "butterflies feeling" right now. 
15. Relax & Unwind (Spotify playlists for work)
It's time to disconnect with all these worries and tensions that you've been carrying this whole day. Take a moment of relaxation and stay calm. Plug your headphones and listen to this one of the "best Spotify playlists for work" that will release you from mental stress and offer silence that you crave. 
Indeed, this will be a long workday. So, How about starting your day with a required boost? Wake Up Happy, is another Spotify playlist that you need there to make your morning route an amazing one. Fill your morning mood with all happy songs that keep you energetic the entire day. Save this playlist in your library and welcome this new day, in a lot better way. 
From now don't let your Sunday pass anyway. It's time to listen to songs that perfectly fit your Sunday moods. Check this trending Spotify playlist, which carries relaxing tracks and songs for a playful Sunday evening. 
Another popular Spotify playlist, that you want to save for getting mental relief and focus. Its lowkey beats will make you relax a bit, so close your eyes and feel the music fully. Recommended playlist to listen to before starting work or while going to college. The mindfulness tracks improve ultimate focus, hence this Spotify playlist is best for work for sure. 
19. Workout (The Best Spotify playlists for working out)
Still, searching for a Perfect workout playlist? No worries, one of the best Spotify playlists for a workout is here. Filled with energetic songs and bouncing tracks, this playlist has everything that you need to push you for regular exercise.  List of hit pop music that keeps your workout active and fun always. 
Also check: Trending TikTok Songs in India Today – 2020
Trending Spotify Playlists for "Back to the Office" Mood
It's back to office time, our long vacation has come to an end. Most of us are driving back to our workplaces and again stuck in traffic or spending hours in metros. We can't reduce your journey time, but we can surely make it comforting and relaxing. Here is the curated-list of some fun playlists from Spotify.
Best Spotify Playlists for Girl's Night out
Is that a girl's night out, all of you met after so long and of course that has to be a fun night. A party night filled with lots of dance and music. are you sorting and searching for a perfect playlist for the night? We bought you a perfect list from EDM to the latest party hits so that you can enjoy nonstop.
Trending Dinner Party Songs on Spotify
Ohh, Is that your inner chef just woke up? And, Looking for soft music for dinner party? Then here are the song-lists for you. 
Something special will be served soon on the table, we are waiting for some delicious cuisines. To make your cookery experience more comfortable and amazing, a perfect list of soft music from Spotify here. Just connect with your speaker and make your cooking more fun!
Trending Spotify Playlist of Late Night Songs
Nights hold so many moments, memories, dreams, and situations. Whether you are sitting with someone having fun or simply sitting alone watching stars. A campfire with friends or a late-night walk on the beach holds and carries a lot. Late night songs will surely make it worth it. We got some amazing Spotify playlist in 2020 for such nights.
If you are associating with creative work, then this playlist is for you. Creative Boost is there to develop a mental state that brings more creativity to your work. Whether you are a designer, writer, or artist, this playlist is the one you want to have creative inspiration within.
Final Beats
Spotify has something for everyone. Like, it delivers quality music and songs for the music fans, similarly, it also carries the podcasts for the leaders and learners as well. Moreover from classical tracks to the latest ones, this music app has everything in one place.
Totally agree that you have your selected playlist with all your favorite songs and all. But, listening to some trending Spotify playlists gives that extreme feeling, when your favorite song appears from nowhere randomly.  
Hope this post helps you to get the Best Spotify playlists that you looking for. Further, we guarantee to update these lists with a more trending playlist as well. But, for now, if you have any suggestions for us, then let us know here in the comment section below.