If you just come back from a long trip or your TikTok is all about travelling stuff, you need a unique caption for every new post. And, you already know how tough it is to come up with the perfect captions that express your travel vibes equally. 
Now there's nothing to worry about anymore because we got you covered with this post. 
In this post, we're sharing with you all the best TikTok travel captions to share your experiences as they should. This will help your followers to connect with your videos and post better as well as give your post a further advantage.
Cool TikTok Caption On Travelling Videos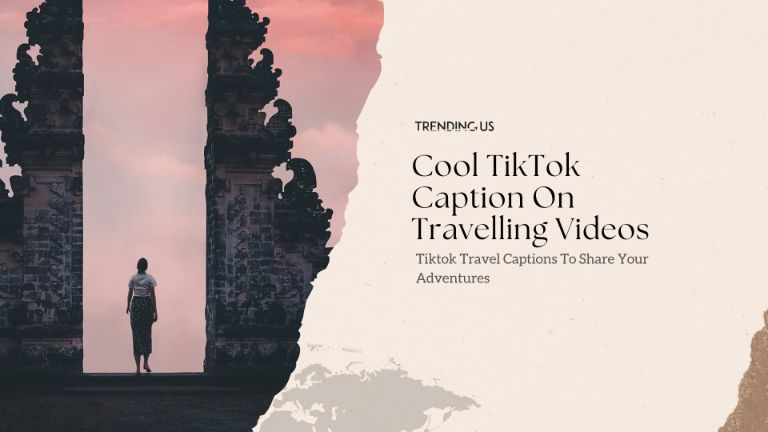 You've already captured the best travel moment with your camera. And now sharing the video on TikTok, but captions are the challenging part. If so, then these are some captions for you to use as your post captions. 
You're never too old to have one more trip. 

Feeling so sorry for those who don't have time to travelling. 

And, here we go for another adventure. 

Backs are packed, we're on our next ride. 

So, what's your favourite travel destination? 

New experiences and great memories are on the way.

I don't care much about food, I just want to explore more places.

Have great fun on the journey, can't wait for our destination. 

You travel to explore the world. I travel to explore myself. 

Summertime is my favourite time to travel. What's yours?

The more I travel the more I get to know myself. 

And here I'm going on another adventure.
Also read: Trending Nature Hashtags For Instagram Reels
Best TikTok Captions For Travel Posts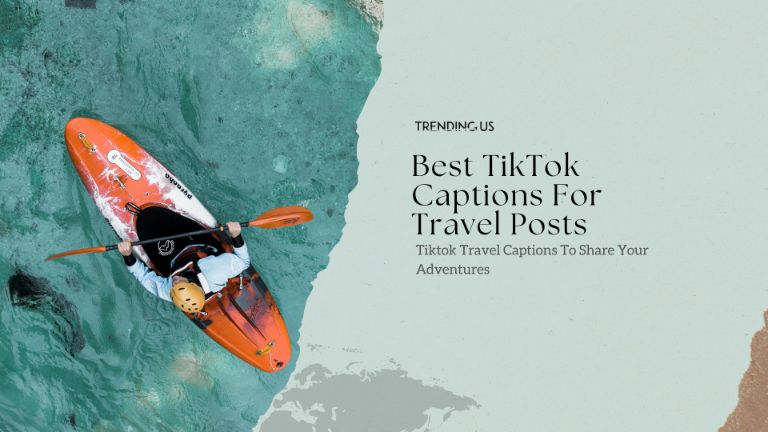 When simply adding emojis as post captions don't make you feel good, you can follow this list. This covers one of the best captions for the travel post you are about to share on TikTok.
All you need is one long trip every three months if not every month.

We're so thrilled to share our travel journey with you. 

Hot summer, I don't care. I know where to chill. 

I'm always ready for one more vacation. 

Travel with friends or travel solo. But make sure to travel. 

A new adventure calling me, I have to go now. 

You know you've travelled a lot when you feel at home anywhere. 

When your travel partner is even crazier than you. 

I'm sure travel is the thing that no one ever hates. 

So, tell us about your travel stories. 

The best trip in your life is always coming up. 

I don't want to make my travel perfect; it has to be great. 
Perfect TikTok Captions For Avid Travellers
If you're an avid traveller and travel full-time, you must be so busy capturing the experiences. But sitting there and coming up with good captions isn't that easy for you, these are some perfect captions we've for you. 
Happy travel, everyone! We're back on the road again. 

Learning about new cultures and meeting new people.

There's always something for a traveller to explore. 

The best part of travelling is making new friends. 

The job of the traveller never ends, it has a new start over again.

Nothing can make me happy seeing the tickets for the next trip. 

There's never a bad day in travelling, it's just a new experience. 

So excited to be at lands and meet new friends. 

That feeling when you come home, after such a long trip.

Come with me, I will take you to the ride to this beautiful place.

You have the best experience of your life when you go away from home. 

If you don't have time to travel now, you won't have later, too. 
Also read: Trending Yoga Hashtags for Instagram Reels
TikTok Captions About Travel Quotes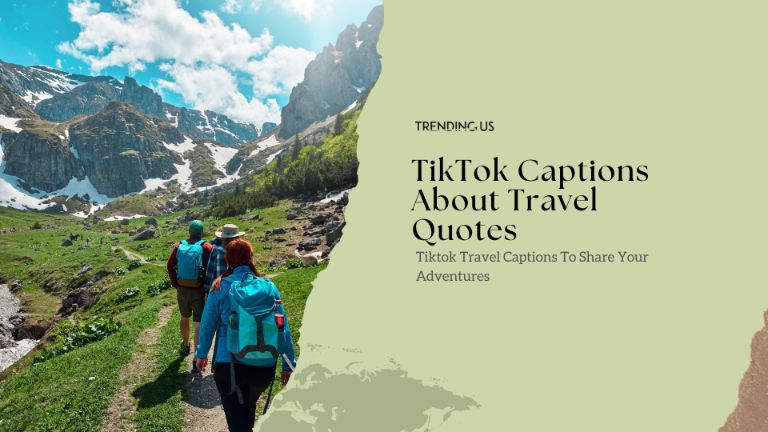 Every travel brings you a new way to look at life. There are many famous quotes about travelling. But if you want some unique quotes to share, here are they. Use such travel quotes as your travel captions. 
Where we are going, we don't need google maps.

The only regret I have is not visiting someplace. 

It's time to go to a place where we have never been. 

Getting lost during travel is not a loss. 

You live your best life when you travel a lot. 

Brace yourself, the greatest adventures coming up. 

Wow, this travelling turned me into an epic storyteller. 

Let me take you to this adventurous ride.

Don't show me your money, show me where you've travelled to. 

Every time we come back from the trip, we bring new stories.

Don't collect things or money, have more experiences, instead. 

Of course, travelling isn't easy. That's why I love it the most. 
Also read: Instagram Captions for Travel Photos
Final thoughts
Enjoyed this post? Let us know which captions catch your attention. Plus, if you have any suggestions related to travel quotes to add, you can share that with us. 
If you're having a travel page or want to share travel videos on TikTok, keep this post handy. Also, make sure to save this post, because we'll update you with the latest TikTok travel captions and quotes for your next trips.