Writing report card comments and remarks on every individual student's performance is a time-consuming job. in the teaching profession, a teacher might face the challenge to write engaging and meaningful comments while preparing report cards. 
To make their job much easier, here in this post, we're sharing these sample report card comments. Of course, the students' remarks are supposed to be based on individual performance, but having this list of comments helps in any way possible. 
Before this, we already covered comments on weak and average students, in another article. So in his post, we only focus mostly on positive and personalized remarks that aware parents of their kids' academic performance.
Positive Comments For Students On Report Cards
Every student is different and has unique qualities that you should not overlook while writing a report card comment. If you want to write comments that sound positive and actually point out the good side of the student, these sample comments are the ones.
He is very confident and helps others kids in need. 

Always eager to help and assist his classmate who is struggling with learning. 

Shows very responsible behavior and doesn't hesitate to do something new. 

The good thing about him is he asks questions and is excited about learning. 

Connects with this classmate nicely. He truly works well with group activities.

She likes to be a leader of the group and effectively guides others to the goals.

He expresses a positive attitude in class and outside. 

Easily relates to what I'm trying to teach and often apply it to a real-life situation. 

Shows responsible behavior, and this also makes others kids follow him.

Actively pay attention while studying and deal with distractions very well. 

Done a great job with working on the independent project and assignments. 

His class participation and willingness to give more in a group are appreciated. 

Overall, shows responsible behaviour and is there for other kids. 

A hardworking student who strives to learn more and grow faster. 

Such an active student in everything from studying to extracurricular activities. 
Teacher's Comments On Student's Progress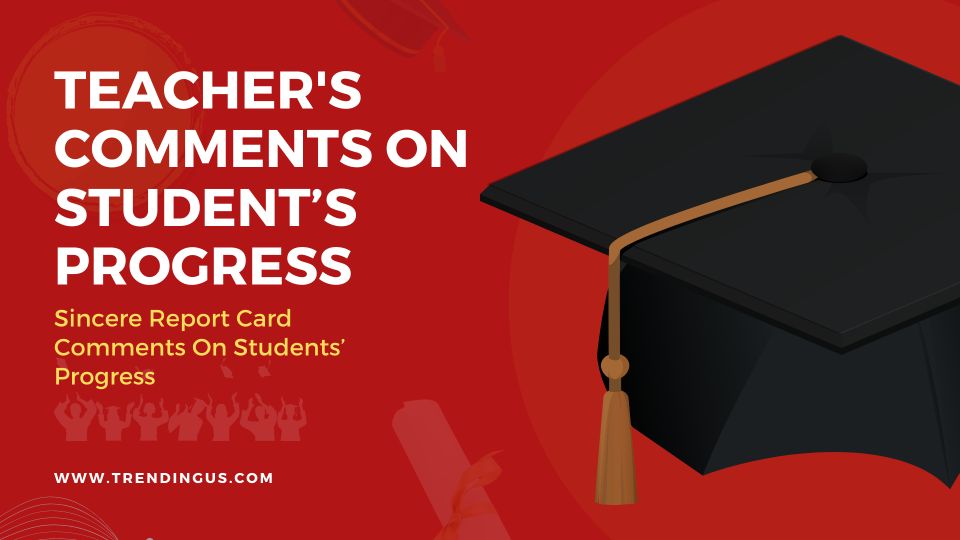 Report cards are all about students' academic and behavioral performance. Make your comments more meaningful that not only inform their parents but also help them to work on kids effectively. so here are the teacher's remarks stating student progress in reports. 
Very excellent performance in language subjects. He kind of enjoys learning new words.

Compared to previous exams, his performance is a lot improved this time. Keep it up. 

Continuous progress in maths. Great to see, he starts to love numbers again. 

Performance is increasing definitely, we can make it excellent. Don't worry. 

It's not like he's a bad student, he just needs to take study more seriously from now on. 

An improvement is required in group projects. In individual performance he's good. 

She often struggles to understand the basic thing in learning. 

Has too many ideas to work on, and this prevents him to finish what he started.

I hope he follows the class rule and shows responsible behaviour in group activities. 

Even I'm surprised to see such a level of excellent performance. 

Needs to pay attention to more maths, and her performance is not up to the mark.

Her performance and focus on other a subject is good, except history. 

Demonstrate a keen interest to learn something new, that's impressive.

Such a well-behaved and obedient student of our batch. He's doing great with his study.

Requires more practice in writing long sentences, otherwise, he's good.
Good Comments On Student's Performance 
The academic performance is fine, the reports card also needs you to write down the behavioral performance as well. Some need improvement, while some are doing their best, and these are some behavioral remarks to write in report cards. 
She strives to learn more and reach her full potential. 

He takes initiative and is always up for learning something new. 

Very much committed to offering what best he can.

Likes to do things his way, good if he also is more cooperative. 

Exhibits good behavior in the classroom and helps others right. 

Starts to behave more maturely and relates with his classmates. 

Such a kind student in our class, always ready to help someone. 

She leaves examples for the other students in our class on behavior. 

Always respect his classmates and follow teachers' advice properly. 

Cares about others students and helps them to understand something. 

So obedient and respectful to the classroom tasks. 

Takes her responsibility well, and also is the first one to help her classmates. 

A self-disciplined kid, who understands own responsibility and acts appropriately. 

He's enthusiastic about the new assignments and gets them done perfectly. 

Truly a well-organized student of this batch, who takes care of his assignments.
Short Remarks For Report Cards
Writing short remarks works well in many cases. First, it saves time for a teacher while preparing report cards, also it is concise and makes parents aware of their kid's progress easily. The detailed discussions are for the parents-teacher meeting, but these short comments are enough for the report cards.
Such a creative student who enjoys doing new and is up for new challenges. 

He's just too good at organizing his study and sports activities. 

A hardworking student who doesn't hesitate to provide more to learn something. 

We can see that he started to take study more seriously than before. 

Maintains a good connection with his classmates, which is also good. 

Very well in the classroom assignments. We need him to be more social. 

Listens to her teacher's advice carefully and gets things done right. 

He is often distracted by anything and starts gossiping with his classmates. 

We expect that he becomes more serious in his study, and he could do well in his study. 

Lately, his performance isn't been the best one, we need a meeting about that. 

Arrives to class late always, never paying attention while studying. 

Completes homework on time. Great, just need to improve the writing. 

Early on he was a brilliant student, these days he seems a bit off and not focused. 

She avoids classroom participation and doesn't work well with others. 

I have never seen such level of dedication in any student this before.

Always submit the assignments on time and do them perfectly.
'One Word' That Weight Your Report Card Remarks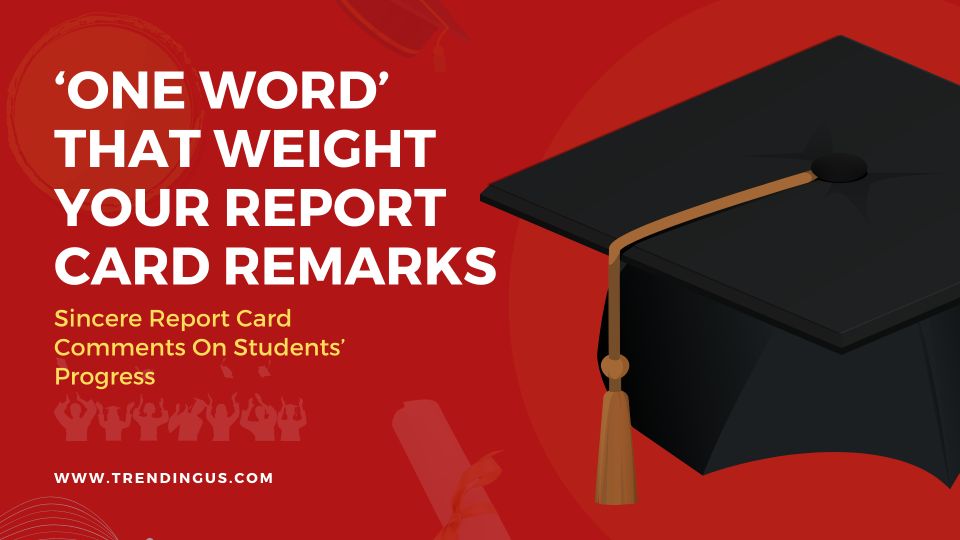 It doesn't matter if you like to write detailed or short comments on a report card, some words can make your remarks that feel more personal. These are some positive adjectives that you are sure to use in a report card, to distinguish the student's performance.
Sincere

Outstanding

Brilliant

Smart 

Attentive

Creative

Obedient

Active

Excellent

Teachable

Eager

Kind

Organized

Confident

Disciplined 
Also read: Trending Survey Topics for College Students 
Final Thoughts
Well, it's the report card that helps students and their parents with their performance over the years. The students who are doing great should be well-appreciated and the ones who didn't, need the right guidance. That all come downs to the report card comments that you leave on each student. 
Most of the time, when there are too many reports to prepare in a short time, you might just rewrite your previous comments. To avoid that, you can use this post to write report card comments that are unique and positive.