The following are some good comments for parent-teacher meetings that will make the meeting successful. Whether you want to share effective remarks on a student's performance or suggest some suggestions for the teacher, this post is for you.
In a child's education, parent-teacher meetings or conferences are crucial. Often parents don't know how their child is performing in school, and this gives teachers the chance to communicate with them with effective feedback.
Nevertheless, parents can also provide some suggestions and ideas for teachers, as well. In addition, they want to know how their child is performing at school both academically and behaviorally.
The key to a successful meeting is the effective way in which parents and teachers share suggestions and feedback. Hence, here we're sharing the lists of the most effective comments that teachers and parents can leave during their meetings. 
Feedback Comments From Teacher To Parents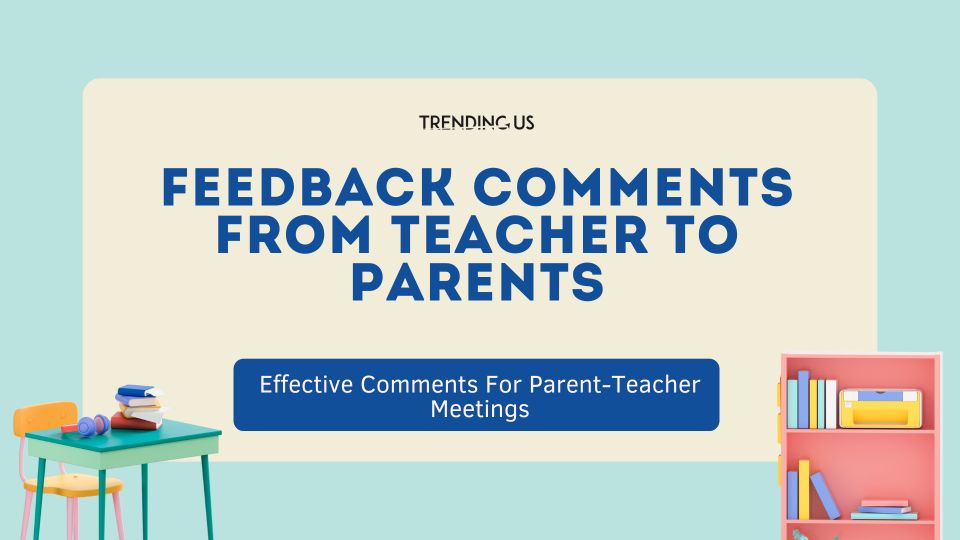 If you're planning to provide the kids' parents with positive and constructive feedback at upcoming parent-teacher conferences, this is the list for you. Sharing some good feedback will provide you with ideas on giving good remarks and comments as a teacher. 
He/she is very excited to study and easily remembers everything we teach. 

He/she is a fast learner, it seems that you also teach him/her at home, too. 

Such a brilliant kid he/she always pays attention when studying. 

He/she enjoys school a lot, we can feel it. Always is happy and very attentive.

Always takes care of his fellow students. Already shows leadership skills. 

he/she asks questions when they face problems understanding something. That's good. 

Shows positive energies while studying in class, and also in the school around. 

Not only the best in their study but also in extracurricular activities. 

He/she is hungry for learning, and always excited about new things. 

He/she never hesitates to ask questions, it shows learning is fun for him/her.

The most regular student in our class, and does his homework on time. 

Easily connects with other students, school staff, and other teachers. 

Very hardworking kid, always ready for trying something new. 

Very talented kid, is born with unique talents along with learning skills.
Also read: Remarks for Nursery Students Regarding Study
Positive Comments For Parents-Teacher Meetings
A parent-teacher meeting is not just for informing parents of their children's weak performance, but also for encouraging those who are doing well at school. It highlights the strengths and good qualities of kids. Below are some positive comments from teachers to parents regarding their children. 
Such a well-mannered and clever student he is. 

He/she pays attention to the study and can easily understand what we teach.

Follow classroom and school rules and ask for help when required. 

She is very kind and always ready to help anyone in the class. 

Truly an intelligent kid, who is great in both study and behavior. 

Very attentive in class as well as in the extra activities in the school.

Have no problem studying, and is also good with painting. 

Shows a level of self-discipline and respect for others. 

Quite a talkative kid, but pay attention when I start studying. 

Listen to their teacher carefully and know when to ask for help. 

Confidently speak up and have good communication skills.

Believes in working with others and always provides a hand to other kids. 
Negative Comments For Parent-Teacher Conferences
The purpose of the parents' teacher meeting is to let them sit together and guide the children together. Here are some negative or needs improvement comments to share with their parents. This is to draw attention to their children's weak performance and expect their support.
Hope he pays attention when teaching, it's hard for him to stay focused. 

The maths performance is still weak, we should give more attention to that. 

Very active in the class, but can't stop talking with others in the class. 

His performance is not that satisfactory, but we can improve. 

I don't know what happened but he seems to feel lost over the last few weeks.

Not very active during class, also he needs to be more participative. 

Always has problems completing the work she started. 

His performance is good, but he needs more practice in writing. 

A short-tempered nature and easily get into fights with other students.

The study is not an issue here, just he remains disconnected from the others. 

His spelling and grammar still need to be improved. 

She is a brilliant student but is afraid to speak up and interact with others.

I expect your support to train him well and start performing well in his study.

Quite short-tempered and easily gets annoyed with any small things. 
Also read: Good Comments for Weak & Average Students
Parents' Comments On Child's Progress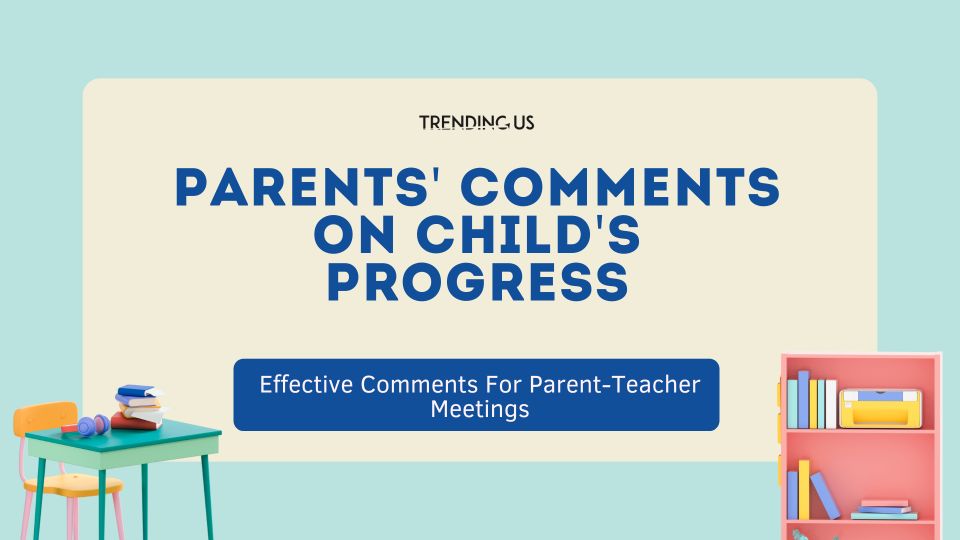 As parents, you may also have some appreciation and feedback to share on your child's performance. Your kid has improved, and you appreciate teachers' teaching style by thanking them. In addition, if your kids have discussed some problems at school, you can inform the teacher about them and try to resolve them. 
It was nice meeting with you. I like to thank you for greatly supporting our kids in their studies.

I truly appreciate your patience to take care of my child at school. 

We and my daughter are truly grateful to have a teacher like you.

I can see the improvement in my son, I can't thank you enough for your contribution.

My son has been talking a lot about you. Glad that you help him grow well. 

All thanks to you, he enjoys coming to school and studying regularly. 

Thank you so much for your commitment and efforts to our child's future. 

I'm truly surprised to check my kids' behavior at home. Seems like you teach him well.

I must say that my kid now started listening to us and respecting others, because of you.

Very happy to see that my daughter's performance is improving. Thank you.

The valuable feedback you provided in the last meeting truly helped us. Thanks.

Great to know that my child has such a supportive and caring teacher like you.
Also read: Unforgettable Comments for College Posts
Final thoughts:
Indeed, parents do know their kids better than anyone else. But, teachers, on the other hand, spend more time with their students, teaching them, and helping them learn something new. Their job allows them to see a child's specialty, uniqueness, and strength that set him or her apart from the others. 
By having parent-teacher meetings, teachers and parents can communicate effectively and share feedback and support. This also helps them to develop connections and participate equally in the child's education. In addition, effective comments like these make parent-teacher meetings more beneficial for both ends.