Cortana tutorial for people outside United States (US)
Latest windows 10 OS includes the virtual assistant Cortana inbuilt. For those who don't know about the origination of Cortana, she is an AI unit which play a significant role in Microsoft's Halo game series. That's where she gets her name and voice. Cortana is a powerful digital assistant in strong competition with Siri on iOS. Also can do things Siri cant like inner circles and place based reminders.
Okay then enough about Cortana now lets see how we can get this chick on windows phone (In India). She's just a BETA, There is Alpha version of India but has features locked up and still a work in progress.
I am not responsible for bricked devices, dead or stopped applications, thermonuclear war, or you getting fired because the alarm app failed. Please do some research if you have any concerns about cortana before doing this! You are choosing to make these modifications yourself and if you point the finger at me for messing up your device, I will laugh at you.
First of all it's necessary to have working data plan or WiFi connection. It will ask you to download keyboard, speech and you wouldn't want to say no to it.
Step 1: (assuming that you are smart enough to connect to internet) Go to settings > Speech > Speech language, select "English(United States)"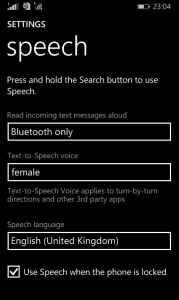 Step 2: Go to Settings > Region > Country/Region, select United States.
Step 3: Settings > Language > Add languages, select English (United States).
Step 4: Settings > Keyboard > add keyboards, select (you are familiar now) English (United States).
Step 5: Reboot your windows phone. For that hold down power key and volume down key till you see the screen go black.
Voila you will have Cortana on apps list. You can use it just for testing purposes or have feel of cortana. You might get irrelevant results because of country. Wait for microsoft to launch it officially for India.