Children love cartoons mainly because they live in a world of imagination, while the imaginary animals, non-existing buildings, non-sense logic, magic power, and somewhat childlike environment are dominant in the animations. In this article, we are going to explore the 7 best places to watch cartoons online for free.
When adults watch cartoons, they feel like escaping from reality to a safer parallel world with far less amount of stress for a while. It's a good entertainment way that reminds you of the bright side of life. If you want to make a cartoon video for sharing it online, or edit videos with no watermark, the easy-to-use, MiniTool MovieMaker software would be a good choice because it can merge videos, trim/split video, add music, apply transitions, use different video filters and effects, add texts, making your videos look professional.
What cartoon did you love best in your childhood? The Simpsons, Popeye the Sailor, Tom and Jerry, Bob's Burgers, Rugrats, Duck Tales, Pokemon, The Powerpuff Girls, South Park, Skipper or Kowalski? Below are the 7 best places for you and your family to watch cartoons online and rediscover the joy from simple things.
Watch Cartoons Online Best places for Kids and Adults
Option 1. Kiss Cartoon
Kiss Cartoon is one of the most well-known websites to watch free cartoons. On the website, you are free to browse cartoons by alphabet, popularity, status (ongoing or completed), rating, and genres. When you hover your mouse on a cartoon cover image, a window will pop up and display the brief information, genres, and video resolution of the cartoon.
You can watch cartoons in HD quality right away, or download your favorite cartoons to your computer without spending a penny and watch them offline later. Beside, you will have different options to control the speed of the cartoons.
Interestingly, Kiss Cartoons has two other websites (Kiss Anime and Kiss Asian) where you can anime in high quality and Asian TV shows online for free.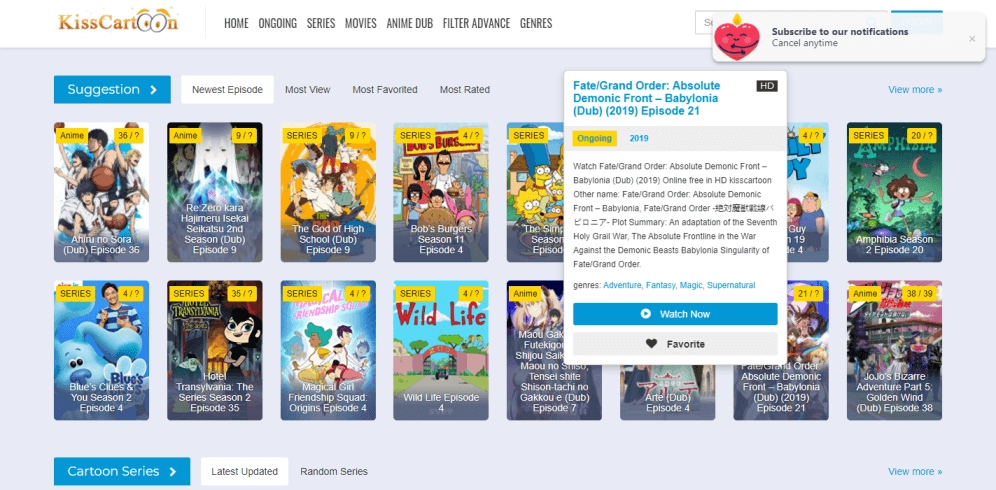 Option 2. Cartoons On
You will find tons of cartoons in different genres on OnlineCartoons website. No sign-up is required. You are allowed to choose your favorite cartoon by the studio, characters, shows or series. The most-watched cartoons are shown at the bottom of the website, which makes it easier to decide which cartoon to watch. You can visit the site from computers and mobile phones.
Also read: 10 Reasons to Get Kids Outdoors
Option 3. WCOforever
For kids and adults, WCOforever is another great place to watch cartoons and anime series online. It is also known as Watch Cartoon Online website. The interesting is that the site provides you with many entertainment options, for example, you could find and watch online cartoons free, and find dubbed anime, subbed anime, movies and ova series there, too. You will be able to change the video quality of each cartoon, but you can't adjust the playback speed.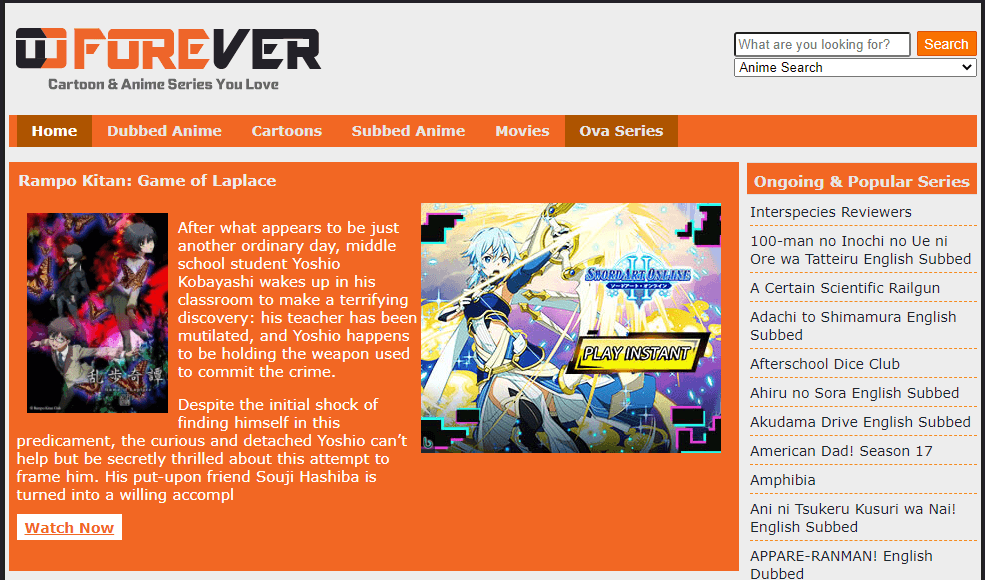 Option 4. Anime Toon
Anime Toon is regarded as one of the best cartoon streaming sites. By default, the cartoons are shown by alphabetical names, but you can also find your favorite cartoon by genre, popularity, or date. Furthermore, you could also find different anime series and movie lists on this website.
Option 5. Toonjet
Toonjet is a cartoon streaming website, on which you will find classic cartoons like Hoppity Hooper, Gabby and more. Although the site design looks a little old-fashioned, you can find and watch cartoons online on that website without signing up. You will be required you to sign up only when you need to unlock additional features, for example posting a comment.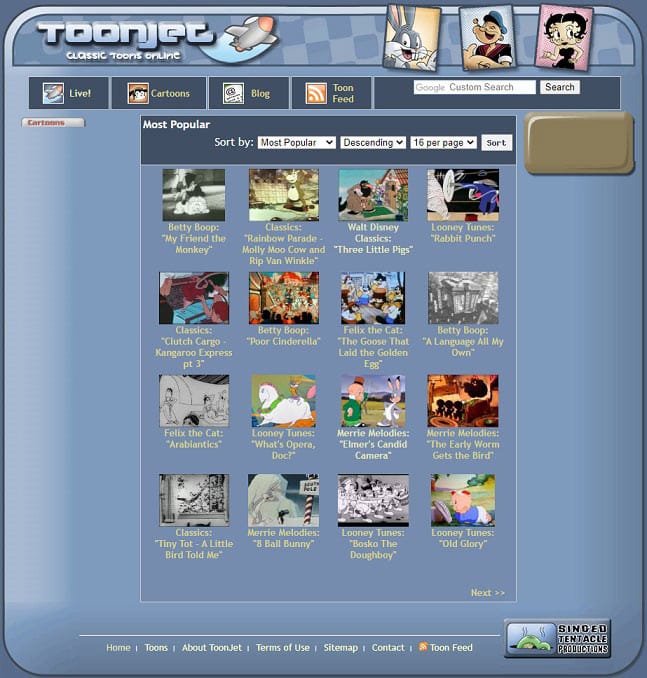 Option 6. Cartoonito
For parents, Cartoonito is a good website to use because it is a cartoon streaming site that mainly targets pre-school viewers outside the US. The most popular cartoons on the website include Super Wings, Fireman Sam, Thomas & Friends, Sesame Street, etc. For different needs, the website offers the service for the users to adjust the video playback speed, and change the video resolution from standard quality to high quality.
Also read: Educational and Fun for Kids: The Newverest Scratch Map
Option 7. YouTube Kids
YouTube Kids is a great platform that is created for kids to watch cartoons online on their own. Many funny cartoons are available on YouTube Kids such as Wheels On The Bus, Baby Shark Dance, Peppa Pig, Johny Johny Yes Papa, and more. Apart from cartoons, you will also find many other content categories, including Music, Learning, and Recommended.