Estimated Reading Time:
4
minutes


Have you ever thought what you might have been in your past life? I was thinking about this question throughout the film (laughter!). Bollywood is a place where several incarnation movies were made and not much were successful.
The heights was when Priyanka Chopra-Harman Baweja starrer "Love-Story 2050" released in 2008 and tanked badly at the box office. Why are the "Magadheera" makers comparing "Raabta" with theirs? I've answer to that, but let's not discuss that because you will get a better understanding to what I am referring to when you watch this film.
This Kriti Sanon-Sushant Rajput starrer is no different than any other re-incarnation movie, it's just that you get some add ons in the form of Rajkumar Rao and gorgeous Deepika Padukone. Jim Sarbh (who unfortunately is a misfit in the so called "Bollywood", he definitely deserves better) plays the third lead in the film and no he is not the villain. It's just that he had a role one shade darker (Zakir Merchant) then Sushant Singh Rajput (Shiv).
Director Dinesh Vijan's treatment to this romantic-thriller is way different than what it was done to "Leela Ek Paheli" or "Magadheera". Sushant Singh Rajput deserves an applause for his acting (especially after I marked him in "MS Dhoni"), he has abs, good looks and a good dialogue delivery too.
Reasons to Watch Raabta
1. Sushant and Kriti's romance says it all, wonderful chemistry.
2. You think Jim Sarbh plays the villain? No he is not.
3. The music of this film has already been on top since long.
4. It's all and all a Sushant Rajput film. Watch it for him, you'll start loving him even if you hated him on the first place.
Kriti does well (at least better than "Dilwale") for most of the part. The present part in the film is more acceptable rather than the times when it revolves back to the other era. I never knew Budapest was so beautiful. Jim Sarbh should not have done this film, because he deserves a nice hollywood film where he is free to express his art of acting (and not what the audience demands from a typical bollywood film). One thing constant throughout the film is the background score by Sachin-Jigar and finest possible music by Jam8 and Pritam Da.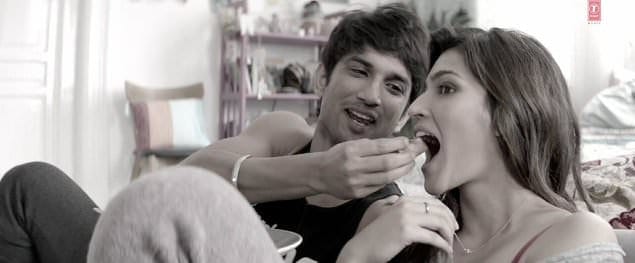 Rajkumar Rao has a very small role (prominent for the film, but possibly unconvincing to the audience) that is covered with over make-up prosthetics. There's no doubt in the chemistry shown between the duo (Shiv & Saira) is fabulous.
You cannot compare the action sequences to that of the recent blockbuster "Baahubali – The Conclusion", but it is at par to what most of the bollywood movies have.
There's no question of this film even touching the mark of 200 crores (what many analysts predicted), it's a one time watch and that too on your TV set. I don't rate movies like critics do.
I believe in spreading love so 2 hearts ❤❤ to this romantic thriller.
Featured image by Bollywood Hungama